DIY Stenciled Mug & Saucer with Arabic Alphabets
Salam my friends! How are you? Life is back to its normal routine here in the Nayfeh household now that summer break is over, and school is back in session.  We did not travel to Jordan this year, but we managed to take 2 car trips during this summer. For the fourth of July, we drove to Cleveland, Ohio to visit family. Then, we decided to drive by Columbus, where we have lived for 5 years. It was a great trip down memory lane, especially for my sons.
After Ramadan, we drove to Boston to visit family. The weather was amazing! I am used to hot and humid conditions during the summer, so this was a "cool" experience for me. We drove to Cape Cod,  took a ferryboat to Nantucket Island, and camped in Rhode Island  for 2 nights. It was the most enjoyable week to spend with family, and learn new experiences.
Also during this summer, I focused my attention on my new Etsy shop. In case you are new to this blog, I recently opened an Etsy shop to sell Islamic calligraphy stencils & decals. You will find a mini view of my Etsy shop in the sidebar that shows a sample of the products available. If you are interested in visiting or purchasing anything from my shop, click on the link (Etsy) to be redirected to that webpage. I also accept custom orders, so please don't hesitate to contact me.

Today I want to share a project that I have been dying to try for a long time. Stenciling arabic alphabets on a coffee mug.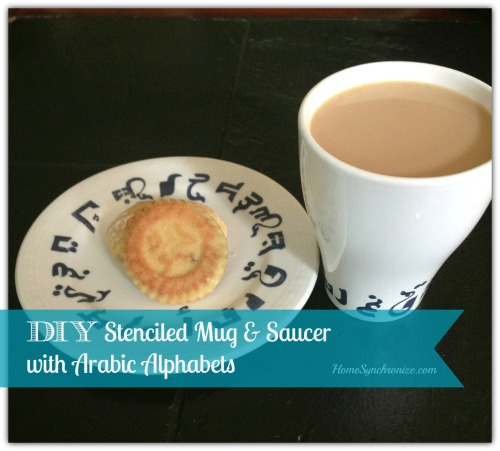 During Ramadan, I shared this image on my Facebook page with this caption: " I am drooling over those serving dishes decorated with Arabic letters. Really!" I was expecting people to respond with a "Ya right"!! Could anyone ignore that yummy food (remember we were all fasting Ramadan), and just admire the plates? But apparently, my Facebook followers could!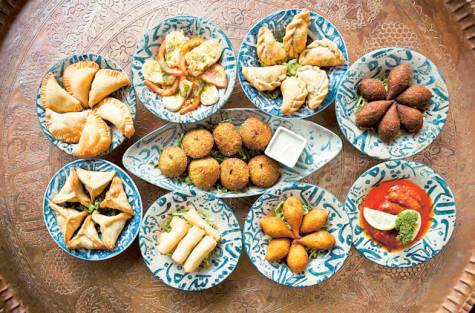 Arabic alphabets on ceramics, glass, fabric, and wood are in style these days. So, I was eager to try to replicate that look.  For me, stencils was the easiest way to go.
If you are interested in creating your own unique stenciled coffee mug & saucer with Arabic alphabets, this is what you will need….
-ceramic mug & saucer
-Arabic alphabets vinyl stencil from my Etsy shop
-X-Acto knife
-Martha Stewart crafts, multi surface acrylic paint
-Martha Stewart small dauber
-Rubbing Alcohol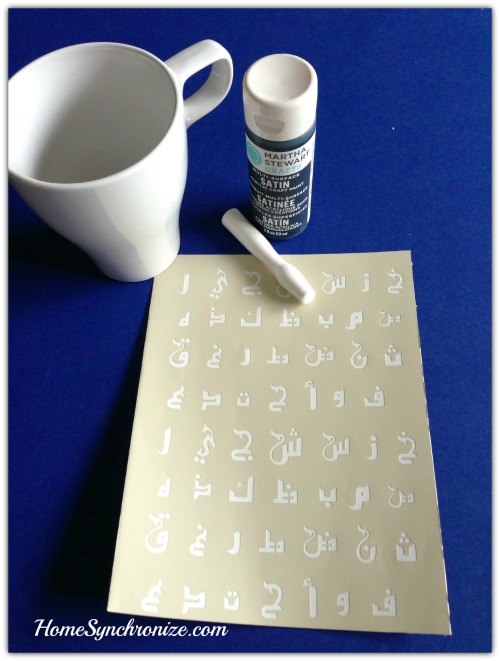 1. Clean the surface with the rubbing alcohol.
2. The stencil will consist of three layers; a paper backing, vinyl sheet, transfer paper. Using the X-acto knife, separate the letters (by cutting through the 3 layers) into squares.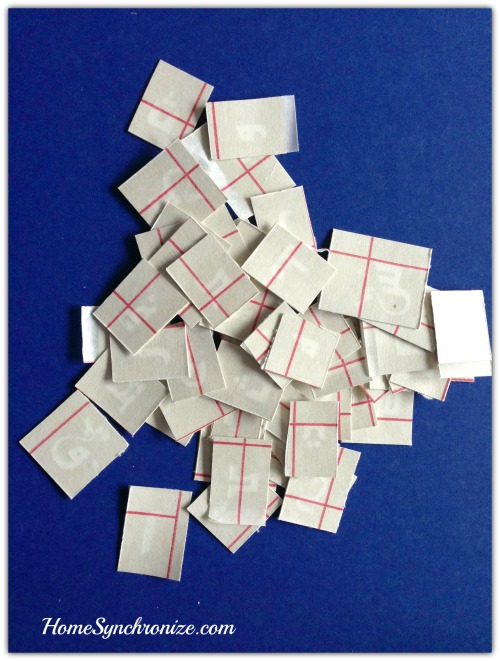 3. Peel away the paper backing, then place the vinyl (sticky side down) on the cup. Carefully peel away the transfer tape to expose the stencil.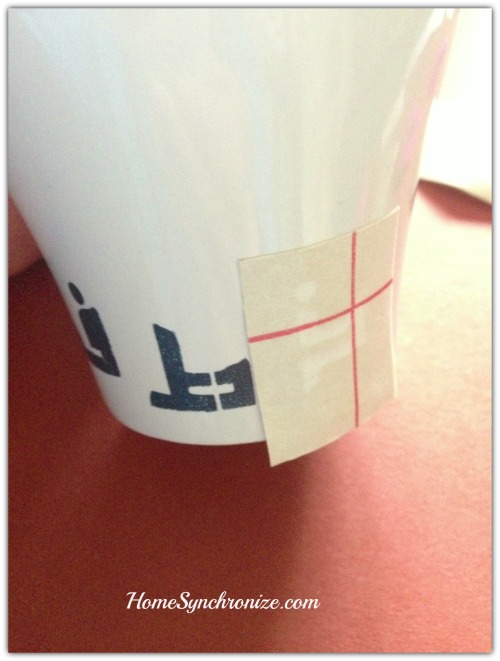 4. Squeeze a small amount of the paint onto a disposable plate. Use the dauber to pick up some paint, and off load the excess onto a paper towel.
5. Apply the paint to cover the stencil. (I don't have a picture of that specific letter, but here is one with a different letter for clarification purposes. You get the point, right? )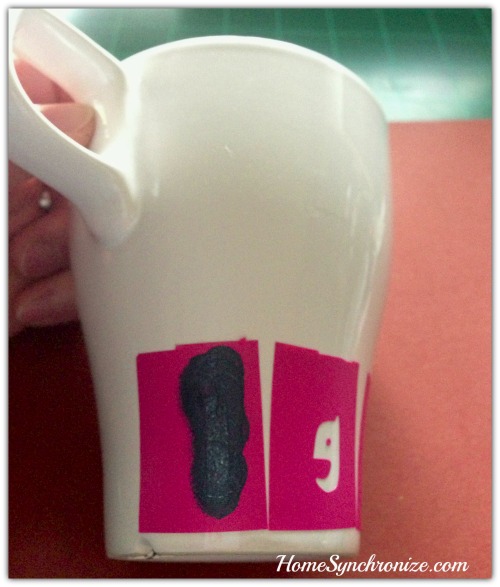 6. Very Carefully peel off the vinyl stencil while the paint is still wet, and set aside (sticky side up) to use again with the saucer.  Important note: Do not wait for the paint to dry, because it will peel off with the stencil (I learned that the hard way)!!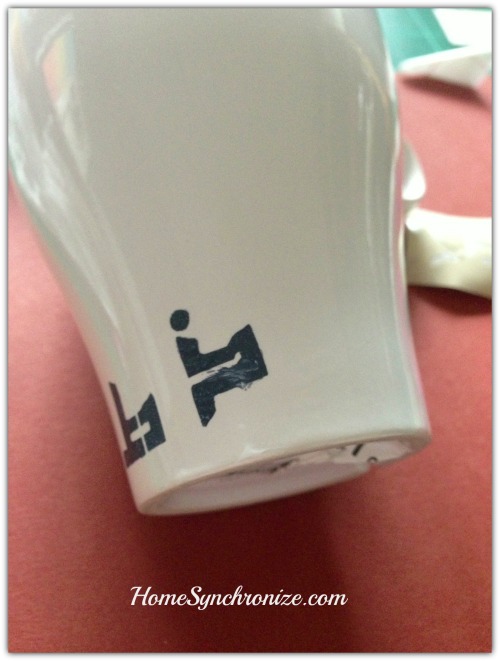 Oops, mistake…..No problem! Wipe clean with a damp paper towel, then rubbing alcohol, and start over.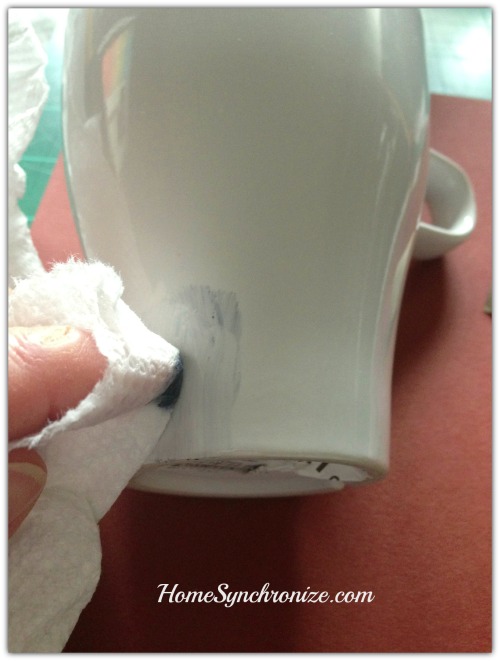 7. Follow the same method with the saucer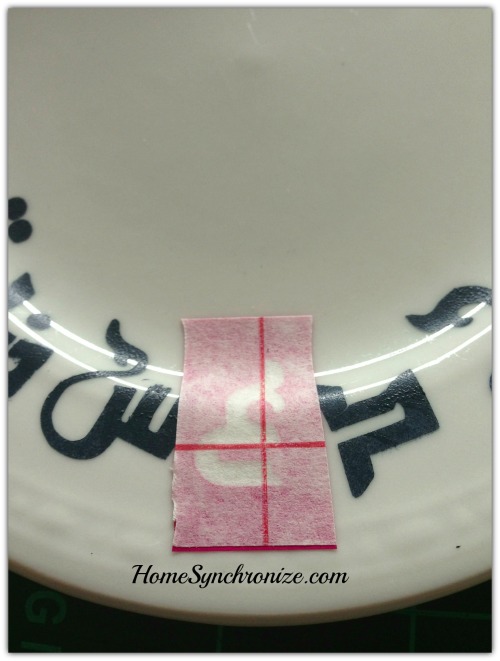 8. At this point, you have the option of letting the ceramics air dry for 21 days, or bake them in the oven to hasten the drying process.  Place them in a cold oven, turn the heat to 350 degrees Fahrenheit, and bake for 30 minutes. Turn off the oven, let cool then take out of the oven. Now they are ready to be used and washed!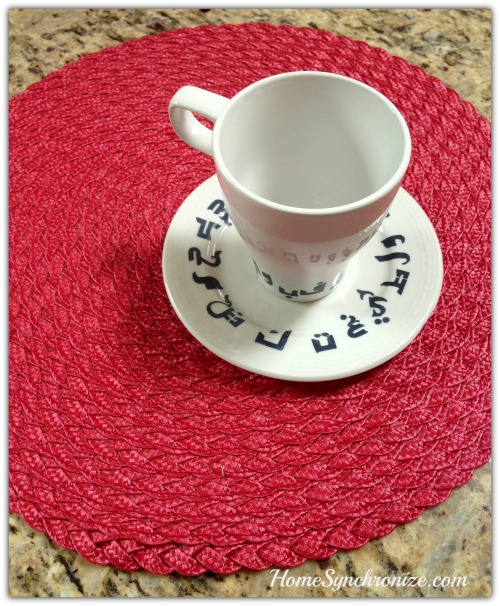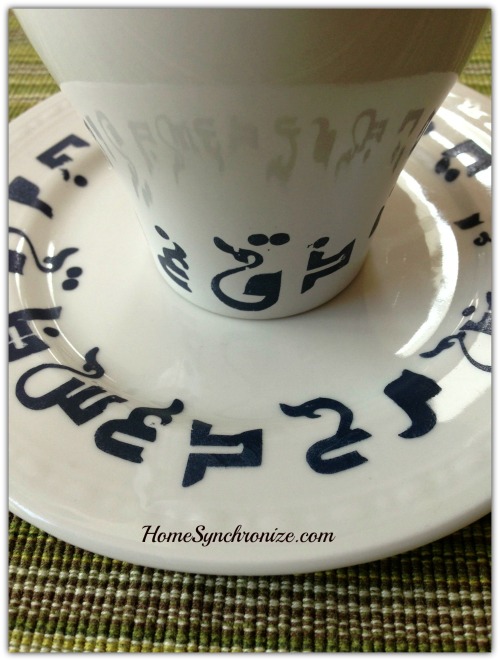 Note: According to Martha's Stewart website, this paint is not food safe.
We do not recommend using them for areas that will come into contact with someone's mouth or direct contact with food. When working on a glass or ceramic drink ware, be sure to tape or mask a lip line approximately 0.8" or 2cm from the top of the drinking vessel.
Also, these stencils are delicate, and not washable so you will not be able to get several uses out of them.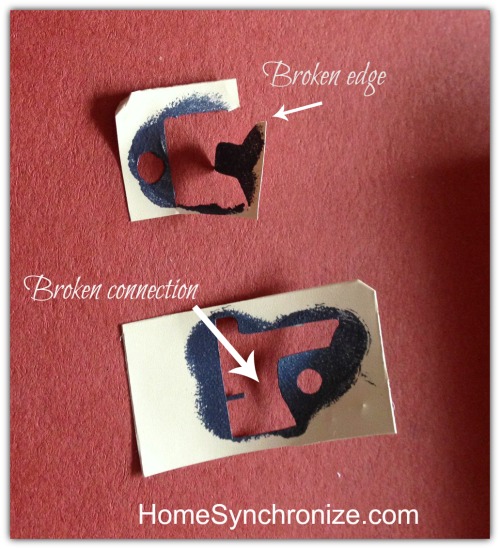 I tried using reusable stencils for this project, but I kept getting paint bleed underneath. Even with stencil adhesive, the stencil kept moving while I was applying the paint. I found that vinyl stencils stick better to the surface, and offer crisp edges.
If you are interested in Arabic alphabet stencils, you can find them at my Etsy shop in vinyl (single use) stencils, decals, and reusable stencils.
So, how would you use Arabic alphabet stencils in your craft projects?